This is the jumpstart page
De-Risk your investment with $0 monetary commit
Virtual Care JUMPSTART Offer
ENVISIONING
We will help scope & define your long-term virtual care implementation Roadmap.

We call it your "Digital Front Door"
SANDBOX
Within 4 weeks, we deliver a sandbox environment for you.
Care-Team experience
Patient waiting room
Telemedicine experience
Telehealth Reimagined
Gartner® states "the ability to support the delivery of virtual care is now a must-have capability for all healthcare delivery organizations."
McKinsey Research estimates that 90% of the existing virtual appointment implementations use generic communication platforms like Zoom, RingCentral, Webex, Skype etc. These solutions are not built exclusively for healthcare and care teams have a hard time adopting them.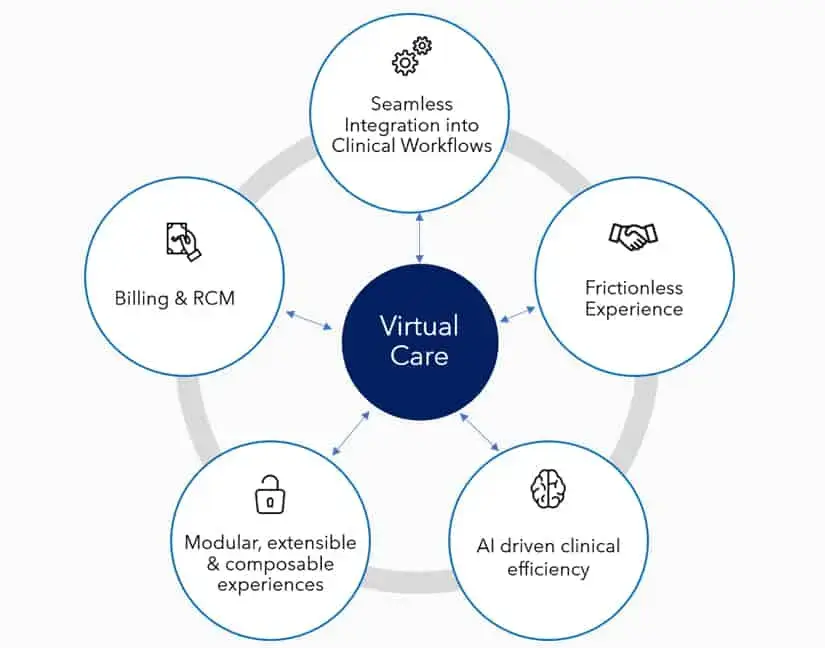 Critical Capabilities
A Gartner study providing guidance for virtual care solutions states:
COVID-19 fueled unprecedented demand for virtual care. Healthcare providers are now moving from initial investments in tactical virtual care solutions to building long-term strategic virtual care
The ability of solutions to simplify and integrate into clinical workflows and provide frictionless consumer and patient experiences will be a critical success factor as healthcare providers seek to sustain and scale virtual care services.
Solution Landscape & Choices
After COVID-19, it became apparent that offering telemedicine is not a choice, but a necessity. Telemedicine is here to stay and implementing a virtual care practice that makes the experience simple and uncomplicates the healthcare process is critical for long term adoption.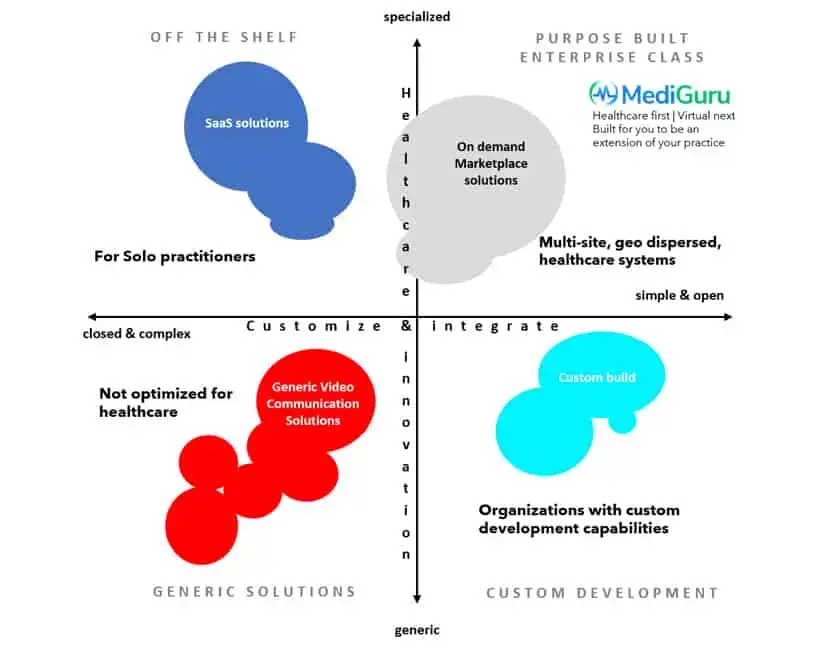 ---
Did you know that it could take 8 months and more than a $1M to build
these critical capabilities?
Implement a Virtual care solution that is seamless, integrated and provides the "Digital Front Door"
for your practice with MediGuru's® advanced healthcare workflows at $0 upfront cost.
---
MediGuru® was purpose built with workflows that were co-designed by care teams to integrate into your existing practice providing the same level of in-person experience. Our innovative solution is simple to use, offers a superior treatment experience that elevates your Care Outcomes while decreasing the cost to implement.
Patient Experience with Empathy
A meeting link (URL) that works only for the patient and auto-expires, thus maintaining confidentiality and security.
The patient is welcomed into a virtual waiting room, just like being on-site, where they can utilize AI-driven intake forms and e-triage symptom checker.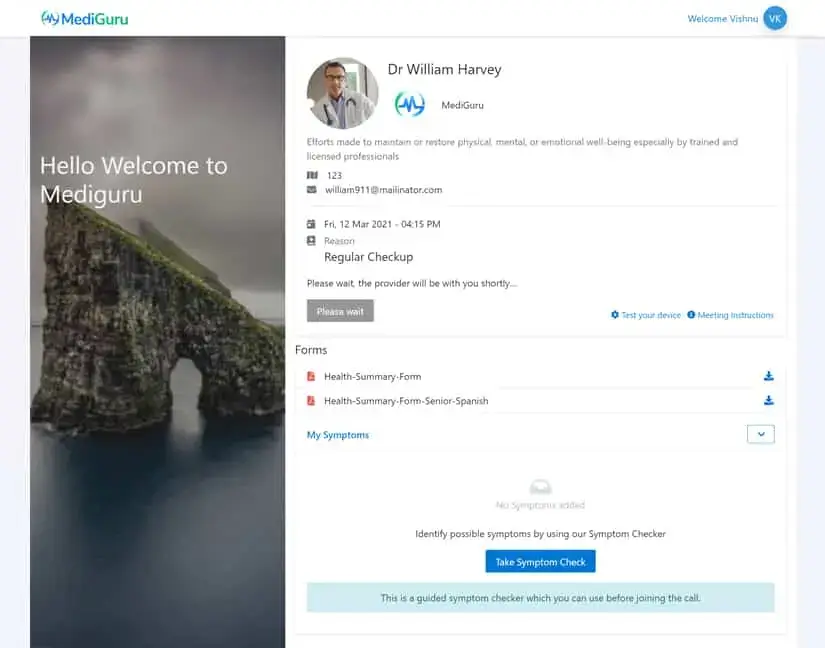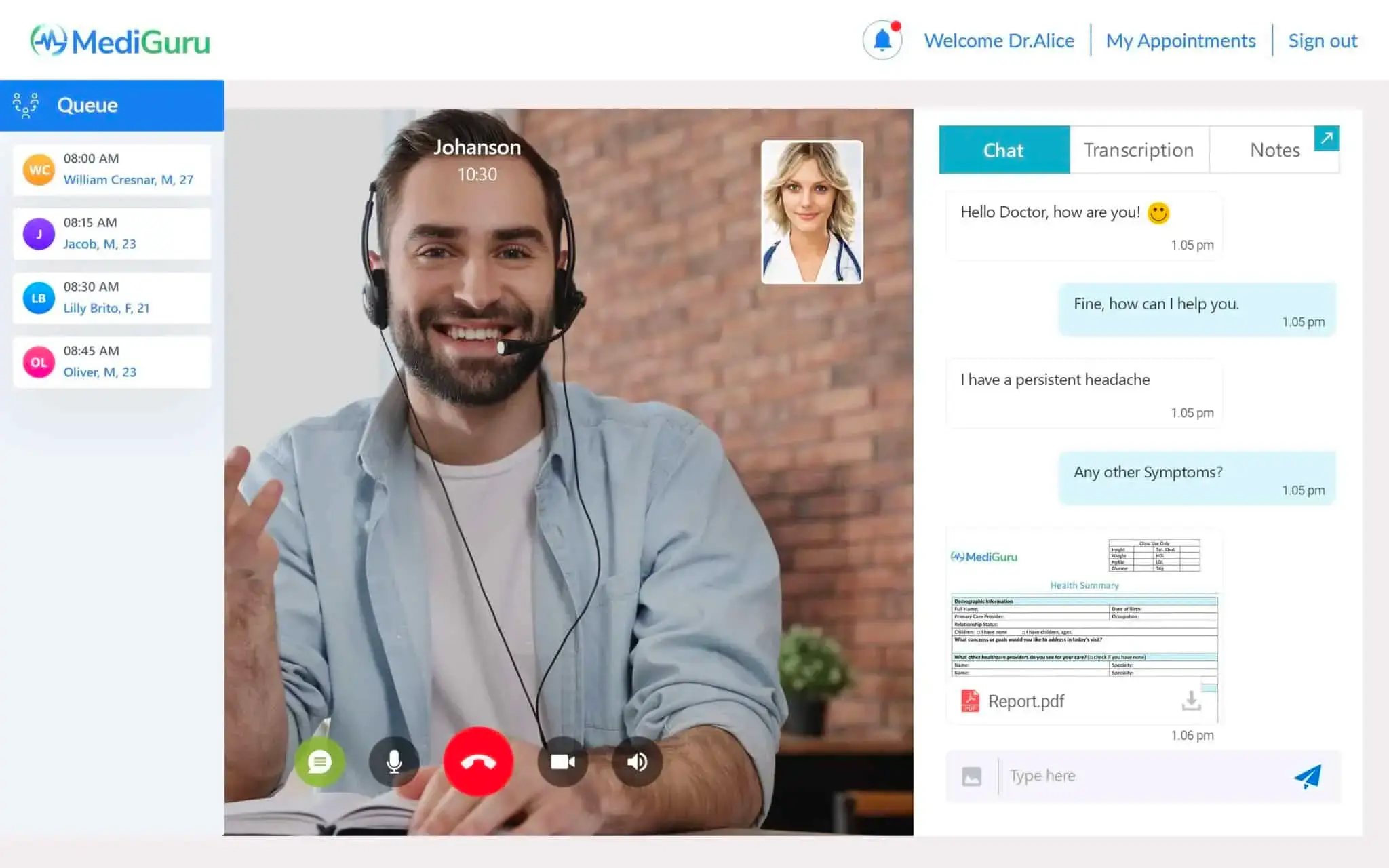 Provider experience
An encapsulating experience based on Dolby.io provides high fidelity video enhanced with chat and file sharing capabilities.
Our proprietary virtual scribe records and transcribes the conversation allowing for accurate charting during the consultation.
Care Team Experience
A proprietary workflow enables the medical assistant to prepare the patient and take care of administrative details before the doctor is virtually paged. A Care Team dashboard showcasing all virtual appointments in the queue, ensures the patients are always attended to in a timely manner.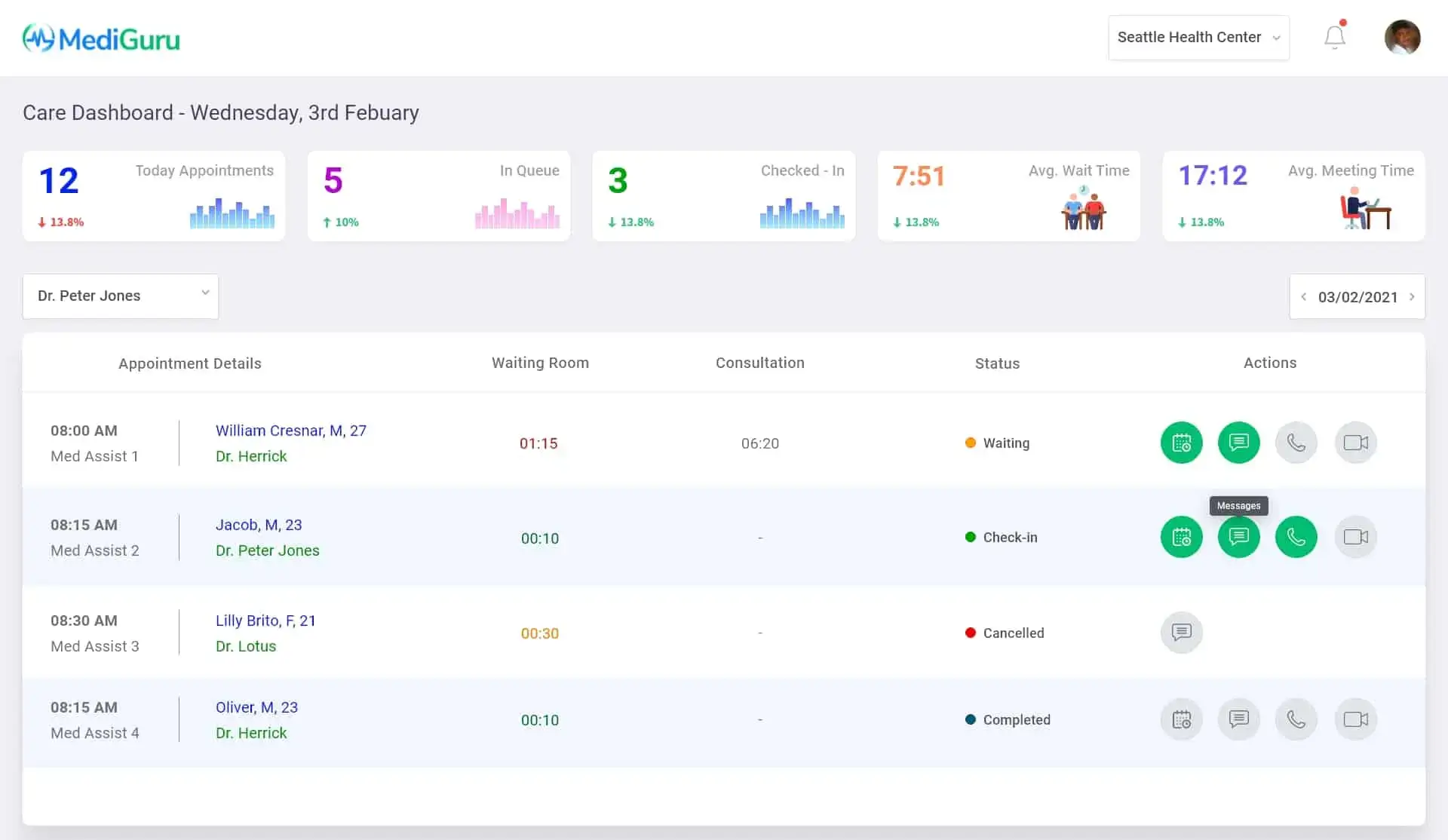 Vera Whole Health, based in Seattle is a $60M, multi-site clinical operations with 400+ care team that provides advanced primary care services to corporations, government entities and insurance networks
COVID-19 dictates a virtual first approach.
Implement a tactical stop gap solution using Ring Central
Have existing ON-DEMAND solution through AMWELL
Leadership wants a long-term solution.
branded/ white-labeled/ care-team & user-friendly that supports their business goals
After an extensive research and vendor validation, executed a 3-year co-development and implementation agreement with MediGuru®
Solution delivered in less than 2 months and a Virtual First solution is planned to go live in Q1 2021.
MediGuru is a trusted technology partner that consistently meets and exceeds our expectations in delivering our virtual care roadmap.
Kevin Wang, Chief Medical Officer (CMO)
Vera Whole Health
MediGuru was very responsive, flexible and knowledgeable in our implementation and would recommend them for all Virtual care and patient engagement initiatives
Maria Gingerich, Director Virtual Care
Vera Whole Health